Global Art Shah Alam, Kemuning Utama (SAI)
| | |
| --- | --- |
| | No.2-1 (1st Floor), Jalan Kemuning Prima D33/D, Kemuning Utama, 40400 Shah Alam, Selangor. |
| | 012-352 9800 |
| | Tuesday 7:00pm to 10:00pm; Friday 7:00pm to 10:00pm; Saturday 9:00am to 2:00pm |
| | globalart.kemuningutama@gmail.com |
| | Principal: Ms. Anna |
| | https://www.facebook.com/KemuningUtama.GlobalArt/ |
Welcome
Welcome to Global Art Kemuning Utama
---
[Introduction]
We are couple who LOVE art, and being CREATIVE! After careful consideration, we ventured into Creative Art Business – partnership with "GLOBAL ART' for it's UNIQUENESS of program; enable us to create plus enlarge our DREAM and PASSION in ART. What an incredible realization!
Throughout the journey, it takes lots of our planning, time, effort, dedication, and a devotion to lifelong learning. We gathered a team of teachers who has the same passion like us, achieving a bigger goal together to help spread inspiration throughout the world. We truly believe that "Inspiration Is The Best Form Of Motivation".
Now, it is our 7th years in business, despite the success we find great JOY within; and we just love what we are doing!
Embracing & Enhance Children's Creativity and Innovation Through Art Activities
---
[Our Mission]
Inculcate and Nurturing Young Minds to be IMAGINATIVE, CREATIVE and INNOVATIVE by Unlocking Their Creative Potentials and Enriching Their Lives.
---
[Our Believes]
The desire inside of you is unlimited. This world is ours, let's make it beautiful through Art.
Art is our great escape, a way to be free of the troubles, worries, and horrors in life.
Art isn't something we can live without. It is more than a pastime, it is who we are.
Everyone is different. Not everyone enjoys art; however, there is a respect bound to allowing people to create. Have respect for what people love.
---
[Preview Of Our Centre]
---
[The World's No.1 Children's Art Enrichment Program]
Here at Global Art & Creative, we believe art enhances creativity, and are the building blocks of child development. We train the younger generation to be creative thinkers and to develop in them problem-solving skills – allowing them to imagine, explore, discover and learn different ways of thinking and doing things!
Established in 1999, globalart has revolutionized into a new teaching and learning methodology that enhances children's learning abilities and creativity through art. Recognizing the need to be creative and analytical in our increasingly competitive world, our program is designed to bring out the creativity in them through their thinking and actions.
The courses that we run here are comprehensive, systematic, innovative, and child-oriented and are specifically designed for ages 3-18, developing them in a holistic way, enhancing their emotional, social, cognitive development and equipping them for their soon to be field of endeavor.
Feel free to visit our center.
Thank you!
Principal of Global Art Kemuning Utama
Click below

[Programs]

tab to find out more about the program we are offering
Promotions
Check Out Our Promotions!
Calendar
Ask yourself this question. "When you or your kids…"
Just loved to create

Want to reconnect with that small creative master inside you

Feel excitement of being inside your imagination

Having pure joy that comes from expressing in art

Enjoy enough with drawing, painting & crafting
You come so near to relate with Creative Art. Trust us, we can bridge these enthusiasms within you, steer you in the right direction and even help to unlock some creative impulse buried deep within you. Perhaps may simply show you a little further down your chosen path.
All you have to do now is…
Take Action and Join our program, in return, action shall lead to many successes in your future self. There's a say, "Passion create Action; and Action creates Result", it is proven!
I love this quote:
Art is our great escape,

A way to be free of the troubles, worries, and horrors in life.

Art isn't something we can live without.

It is more than a pastime, it is who we are.
Class Schedule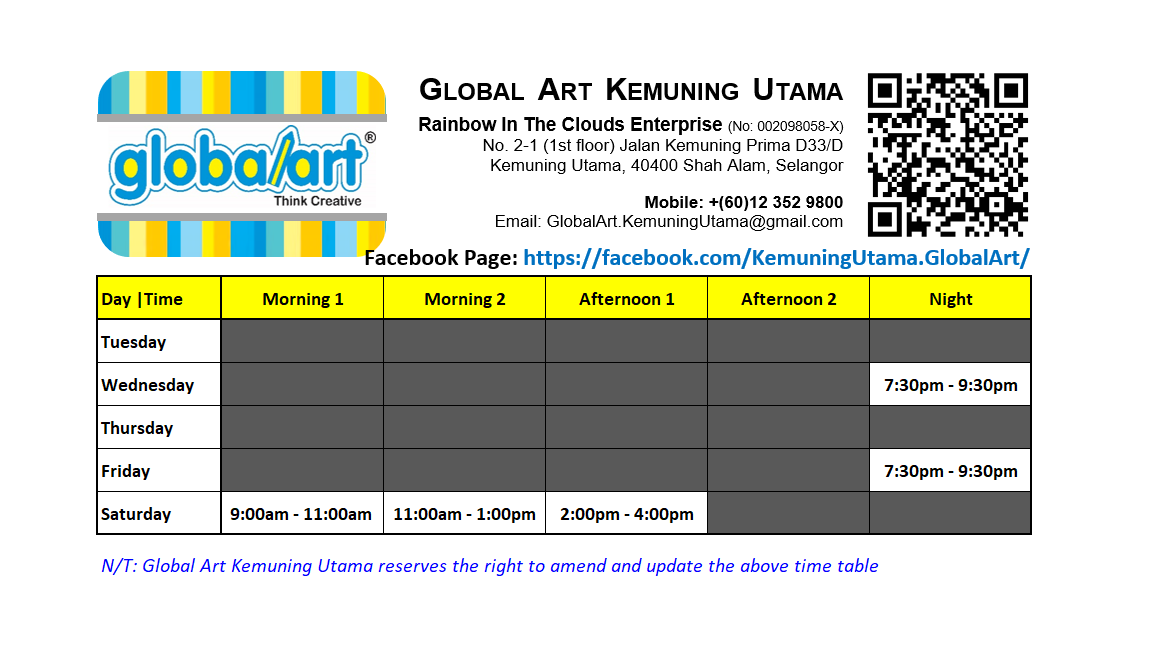 Contact Us
We would love to hear from you.
Global Art Bandar Botanik (PBT) Inquiry Form